With 9 weights over a ton, the lakes fished well considering the terrible day's weather we had. Mick Godfrey (Ipswich) won the match with 128lb 15ozs from peg 16 on the Pleasure Lake. He fished pellet up-in-water on the pole and had carp to 12lb.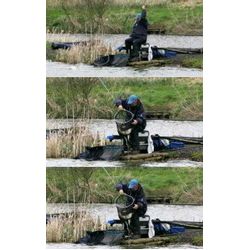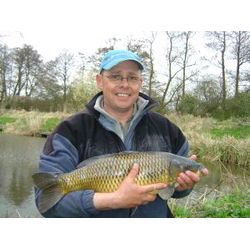 On the opposite bank on peg 30 Kevin Kingston-Miles (below) fished the waggler mid water with sweetcorn and feeding pellet and had a brilliant last half of the match and finished with 118lb 11ozs.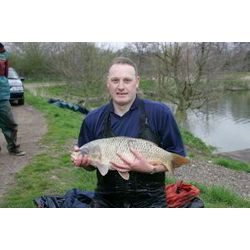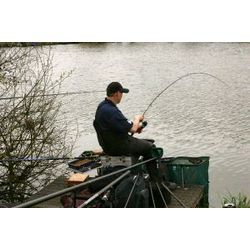 The Match Lake fished well and again a local angler Darren Mallet fished mid-water on peg 7 and weighed in 106lb 15ozs but was pipped by Rob Austin (Rotherham) on peg 6 (below left) who weighed 117lb 15ozs.
Warren Martin (below right) drew on the not so favored Top Lake and was on peg 12 and had 111lb and came 5th overall - well done!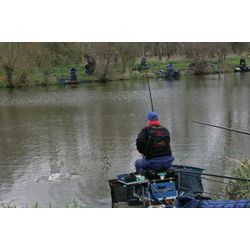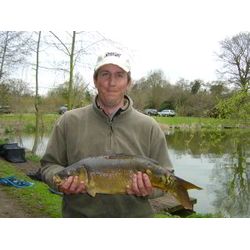 Keiren Rich (Manchester) also did well on peg 24 (which he drew the year before!) and had 103lb.
Colton fished a little slow with 30 anglers pegged on it. Top weight went to Gary Kiddel on peg 5 with 73lb 3ozs and next was Lee Carver who had 63lb 11ozs from peg 34. Lee normally fishes mid water but had to switch tactics to cat meat on the bottom at 6 metres to find the fish.
Willow lake was won by Steve Tyler who had 75lb 10ozs from peg 33 and Phil Ringer on peg 14 had 74lb 14ozs.
There was a battle on opposite banks on Railway Lake between Grant Albutt (peg 42) and Andy May (peg 1) with Grant coming out the best with 108lb 4ozs leaving Andy in second place with 99lb 1ozs. But as the lakes at Barford fished well it unfortunately was not good enough on the day - very good effort though they were on fish for most of the match.
There certainly were some top class anglers on show and I am really pleased an East Anglian angler went through. Very bad luck to all those in the top 5 - all of them had lost the odd fish which could have won them the match - I'm hoping they're over it now though! Brilliant angling from all of them.