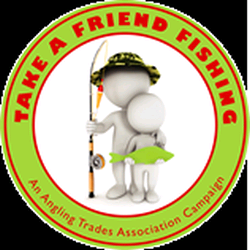 We're offering anglers participating in the Take a Friend Fishing scheme an hour's free training to get them started. Sessions must be booked in. The fishery is offering 2 for one fishing with any validated rod licence voucher
Taking someone fishing for the first time can be extremely rewarding, sharing their first experience of the sport. We aim to help with the technical bits by teaching them the basics before they join you on your peg for a day's fishing. We hope that you will be letting your friend borrow your fishing tackle. We have limited tackle that can be provided but this must be booked.
There are vouchers in the angling press or you can print one from their site http://www.takeafriendfishing.co.uk/ and we have copies in the shop so can validate them on site.
You will need to validate the voucher on their website, bring into the tackle shop and you pay for the day ticket and your friend can fish for free on your peg and receive an hour's worth of free coaching.
Contact Sarah on 01603 759624 to book coaching from Tuesday 22nd - Saturday 27th July.